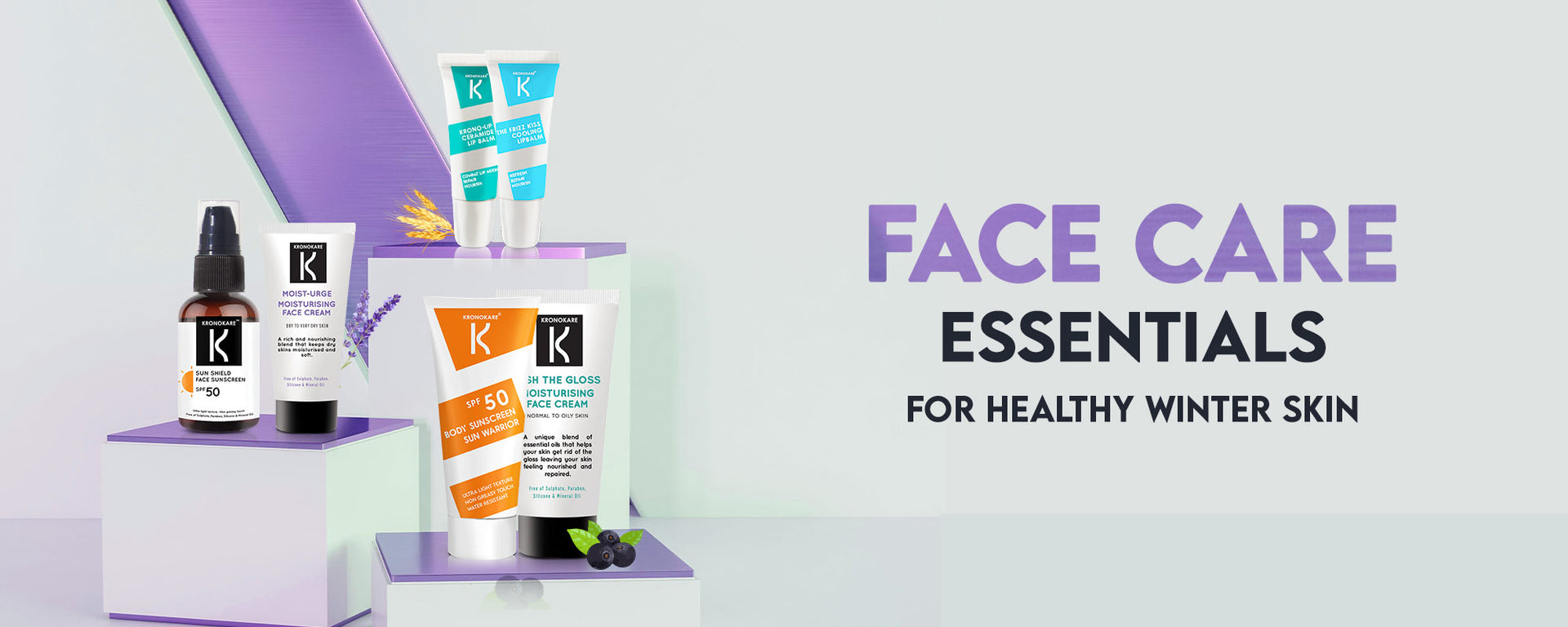 3 Quick Ways To Boost Your Skin Hydration this Winter
Winter season is here and so is the mystical beauty it brings. But, it is also the season when your skin gets extremely dry and flaky. So, it's the time when you need to level up your skin care game.
Dry skin comes with a lot of itching, irritation and other skin problems so taking good care of your skin is important for maintaining healthy skin throughout the season.
Before jumping on to the cart, it's important to know what products your skin requires and what ingredients will be suitable to your skin as availability of various products can be confusing.
Provide your skin with enough moisture to keep it happy and healthy.
Use Thick Cream based Moisturiser 
With winter comes dry and flaky skin. It is important to wear a thick layer of moisturizer at least twice a day to prevent the skin from getting too dry.
Kronokare has two moisturisers specially formulated for dry and oily skin, which won't let the weather get you. Both the moisturisers are free of any artificial ingredients and have a non comedogenic formulation. 
Do Wear a Sunscreen
Due to less humidity your skin is likely to get more sensitive and lose its moisture balance. Due to excessive dryness and sun exposure, the appearance of wrinkles and fine lines become more visible. In order to prevent this, Use a good Sunscreen SPF 50 that can reduce the signs of ageing and discoloration caused by sun exposure.Never forget the sunscreen as it is the most important part of your skincare routine even in winter. If you're looking for a suitable non comedogenic sunscreen.
Our super powerful SPF 50 face sunscreen ensures the highest protection against UVA and UVB rays. No toxins, no weird film: just pure protection, unplugged. Quickly absorbed and with extra light texture our sunscreen leaves a dry and nongreasy feel. 
 Sun Warrior- Body sunscreen SPF 50 
Suitable for all skin types - the sunscreen provides protection against harmful UV rays and keeps your skin healthy throughout the season. The formulation is also water-resistant and will protect you whether you are at bay or out in the deep sea. 
Hydrate and protect your lips : 
Lip care is an important part of the skincare regime. The skin on the lips is sensitive and thin as compared to other parts, hence it requires additional hydration during winters. 
Lips tend to get flaky, dry and chapped. Wearing a good hydrating lip balm keeps the lip moisturised and hydrated throughout the season. Mentioned below are two fabulous lip balms to keep your lips plump and hydrated : 
Get Glowing this winter and shop these amazing products at kronokare.com